ELEONORE - I don't need to be happy
Liberation Opera
Artistic direction: Frauke Meyer and Susanne Blumenthal
Composition: Oxana Omelchuk, Gordon Kampe and DJ Illvibe (Vincent von Schlippenbach)
Texts: Charlotte Roos
Musical direction: Susanne Blumenthal
Idea and direction: Frauke Meyer
Stage and costume: Uta Materne
Dramaturgy: Friederike Engel
Lighting design: Nico Kraima
Sound direction: Florian Zwißler
With:
Eleonore: Maja Lange
Daughter: Marie-Audrey Schatz
Hero: Benjamin Popson
Director: Frederik Schauhoff
Candidate/ Father: Michael Taylor
MAM.manufaktur für aktuelle musik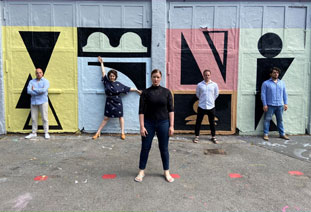 Project management: littlebit Cologne
Press work: Vera Firmbach

phone:+49-221-7327970
mobile: +49-179-2400866
World premiere
Friday, 25.09.2020, 7:30 pm
Carlswerk Victoria, Cologne
Further dates:
Saturday, 26.09.2020, 7:30 pm
Sunday, 27.09.2020, 6:00 pm
Carlswerk Victoria, Cologne
Schanzenstr. 6 - 20
51063 Cologne, Building 3.12
Entrance via Club Volta, Building 2.10

Friday, 30.10.2020, 8:00 pm
Theater Mönchengladbach / Concert hall
Odenkirchener Str. 78
41236 Mönchengladbach
theater-kr-mg.de/service/theaterkasse
Tickets Cologne: € 22,- / 14,-
Tickets are available at littleticket.shop

We would like to point out that we may adapt the admission and performance modalities at short notice to the current Corona Protection Regulations.
Download:
>>> Press material (photos and biographies, zip)